New: Looking to the future, Microsoft has just unveiled some new initiatives that will see the light of day soon.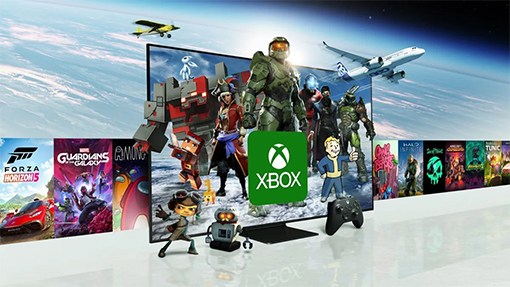 Microsoft has revealed a partnership with Samsung that will help propel Xbox and gaming for the next 20 years. They're on a mission to make games more accessible to a wider range of people, and in some cases, you won't even need their hardware to play their games.
Microsoft Gaming CEO Phil Spencer said, "We're building a platform that can reach billions of gamers, whether on console, on PC, via Xbox cloud streaming, where gamers on any device they want to play on should be able to find the content they want to play.
Here are some of the ways they will achieve this:
Bringing the Xbox app to 2022 Samsung smart TVs
Extending Xbox Cloud Gaming to additional countries
Bringing new gaming experiences to Microsoft Edge and Windows 11
Rolling out updates for Xbox Game Pass members
Introducing more options for expressing yourself with Xbox Design Lab
Thanks to Microsoft's partnership with Samsung, you'll be able to play hundreds of cloud-enabled games without having to buy an Xbox or gaming PC.
Hundreds of games in the Game Pass Ultimate library, including subscription-free Fortnite.
It will be a seamless experience working like any other streaming app on your TV.
Starting June 30, you will be able to access the Xbox app from the Samsung Gaming Hub or Media Hub. You will be able to sign in to your existing Microsoft account and connect a Bluetooth controller.
Xbox Game Pass Ultimate members in Argentina and New Zealand will have access to cloud gaming and will be able to play on Apple and Android devices, Windows PCs, Xbox Series X|S, Xbox One and soon on Samsung Smart TVs.
On top of all that, Microsoft revealed "Project Moorcroft". This will be a program that will provide curated new demos of upcoming games to Game Pass members. The program will begin rolling out in 2023 and will begin by focusing on indie developers and trying to generate interest in their respective games. If you participate in this program, you will be able to see how your demo performs and you will be compensated. This should be a great new way to see what works and what doesn't in your next game.
Finally, Xbox Design Lab is expanding. Microsoft has revealed that it's adding a new range of colors and customization options. These include in particular the following:
New colors
soft pink
sweet orange
soft green
soft purple
New Camo Top Cases
Mineral camouflage
arctic camouflage
Camouflage in the forest
Sand camo
Blazing Camouflage
The Xbox Design Lab will also be available in more countries later this summer. New countries on the list include Australia, New Zealand, Japan, Korea, Singapore, Czech Republic, Greece, Hungary, Norway, Slovakia, Switzerland and Taiwan. If you live in one of these countries and have wanted to design your own Xbox controller, your wait is almost over.
All of these announcements were made ahead of the two showcases Microsoft will be hosting next week to (hopefully) showcase many of the games that are coming out. What do you think of today's announcements? What do you hope to see next week from Microsoft?
source: Microsoft