AC Edinburgh celebrate their senior women's 4x100m gold medals – and there were two more team wins to follow (photos by Bobby Gavin)
The sunshine and good conditions at Grangemouth brought down the curtain on our 4J athletics season with a busy and pleasant National Track Relays.
The event took place after reflection around the passing of Her Majesty The Queen and there were moments of respect from all participants at the start of the morning and afternoon sessions.
And the prevailing vibe was good with hundreds of athletes of all ages relishing the team element as well as all the thrills (and spillovers) that come with passing the baton.
The strength of our club's community was at the forefront at Grangemouth with the spread of different podium vests encouraging – although Edinburgh AC won three senior women's titles. Not a bad way to celebrate the return to Meadowbank!
It takes a significant collective contribution to the stage championship events, of course, and the national track relays concluded a first full program in Scottishathletics since 2019 – with 2020 (severely) and 2021 (delayed start of championship events) impacted by the global pandemic.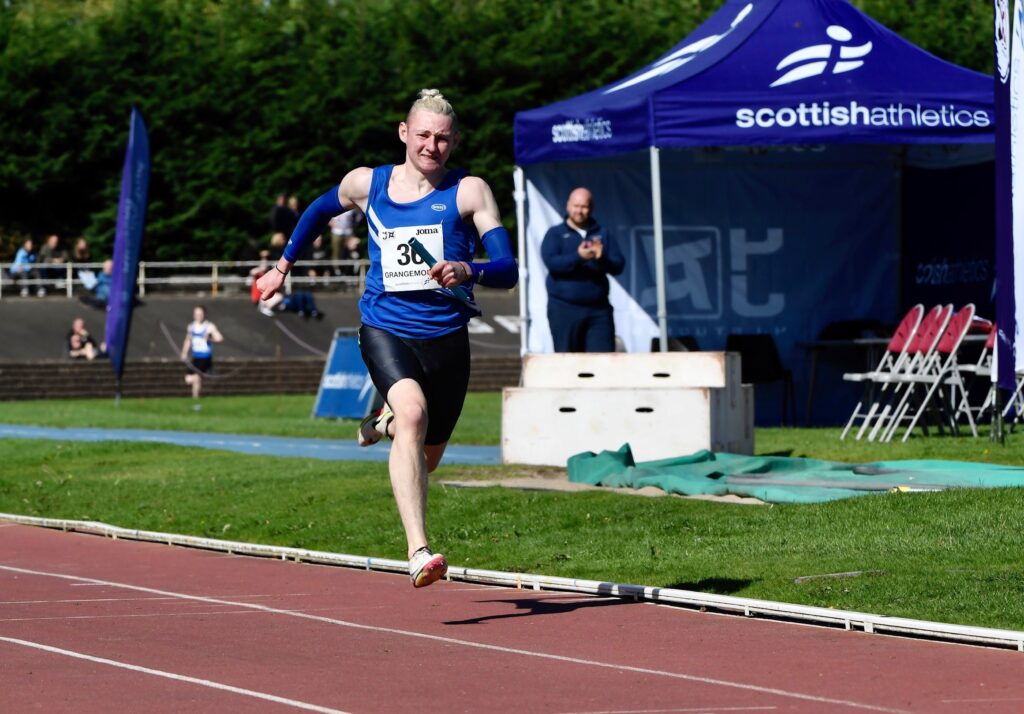 Ally Mitchell leads home Kilmarnock Harriers in men's 4x100m final
"There is a huge team effort involved in putting together a championship track and field season," said Alasdhair Love, our competition manager.
"Obviously 2022 has been extremely problematic, although we have run smaller scale, non-championship events this summer mainly at Meadowmill.
"But there were Covid restrictions and issues even in the early summer of 2021 and we were unable to hold three District and National Open events.
"So to then be delivering everything this summer has been great for the sport and we've had some really good numbers in terms of entries.
'I want to thank the Scottishathletic staff, venue operators, officials and volunteers for helping us run our events. We have been to a number of venues for Championship events including the new Regional Performance Center in Dundee.
"We also say a huge thank you to the athletes and their coaches and to our clubs. It was great to see a great turnout in Grangemouth for the National Track Relays on a sunny Saturday. There was a good atmosphere around the stadium throughout the day.
"We are also grateful to our athletics sponsors, 4J Studios, for their continued support. This year their support has helped us with things like live coverage (Aberdeen and Grangemouth), the Seniors prize pool and equipment such as a new presentation gazebo.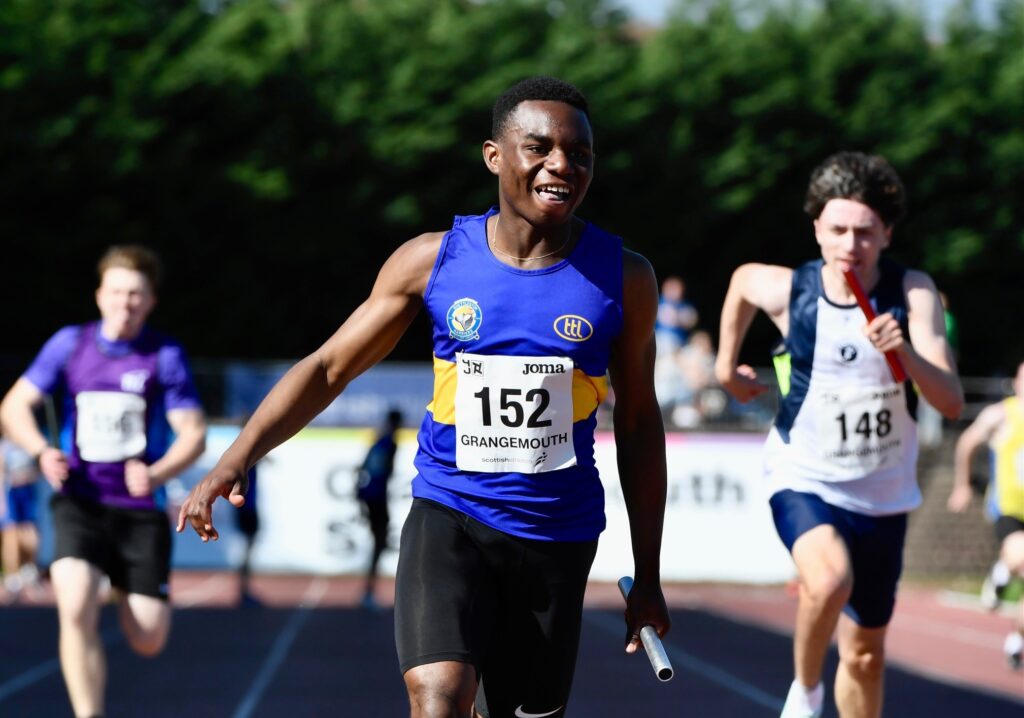 Shettleston's Lucky Eduwu brings the relay home by winning gold in the men's 4x100m final at Grangemouth (Photo by Bobby Gavin)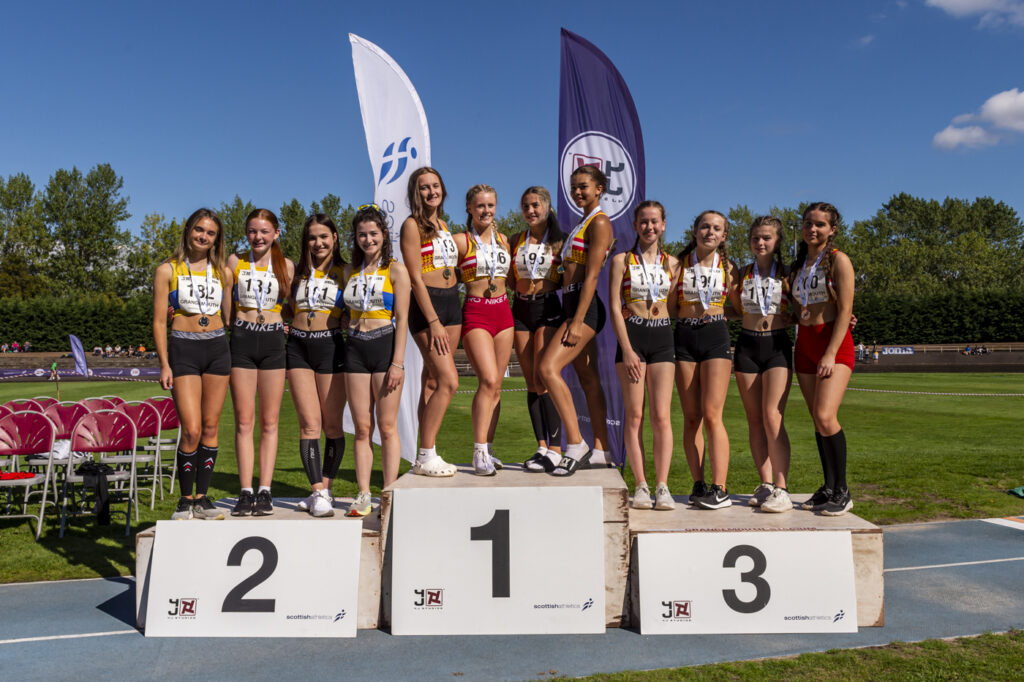 Double podium for Law and District AAC in the U17 women's 4x100m with Giffnock North in silver
At Senior level, gold medals in the Men's 4x100m have gone Kilmarnock's way thanks to the efforts of their latest quartet: Josh Smith, Lewis Tidy, Andrew Baird and Ally Mitchell.
It was a close end with Killie in 42.96 and silver medalists AC Edinburgh at home in 43.07. VP-Glasgow won the bronze medals.
The women's final was dramatic as AC Edinburgh won the gold medals with 48.14 thanks to the efforts of Peace Okaka, Lulu MacLeod, Katie Purves and Stacey Downie.
Dundee Hawkhill Harriers took the silver with 48.36 and Law and District AAC were third (49.912) with Pitreavie AAC left to error on their final substitution.
And Edinburgh AC scored a double by winning the women's 4x400m final. Dundee had won in 2021 but had to settle for silver medals this time, with Law and District taking bronze medals.
The winning AC Edinburgh team was Katie Johnson, Katie Purves, Stacey Downie and Anise Macaulay Orr as they closed in 3:55.58 with Dundee at 4:02.81 and Law at 4:06.16.
Kilbarchan AAC won gold medals in the 4x400m at their home track in Linwood last year – and repeated the success at Grangemouth.
anchor runner Krishawn Aiken had a lot of ground to make up for but brought it home in 3:21.91 to complete the runs in Stephen Johnston, Michael Cairns and Connor Henderson.
Dundee Hawkhill, who led by a stage, again had to accept the silver in 3:22.83 with the bronze going to Falkirk Victoria Harriers in 3:23.52.
Edinburgh have won three senior titles with victory in the 3x800m race at 7:00.25. The men's 3x800m gold medals went to local Falkirk club Victoria Harriers with a time of 5:54.16.
In the youngsters, there was great action, great teamwork and very tight finishes.
Falkirk Victoria Harriers posted a championship best performance in the U15 Boys 3 x800m race with 6:21.77.
A big thank you to all the athletes who ran as well as the coaches and team managers.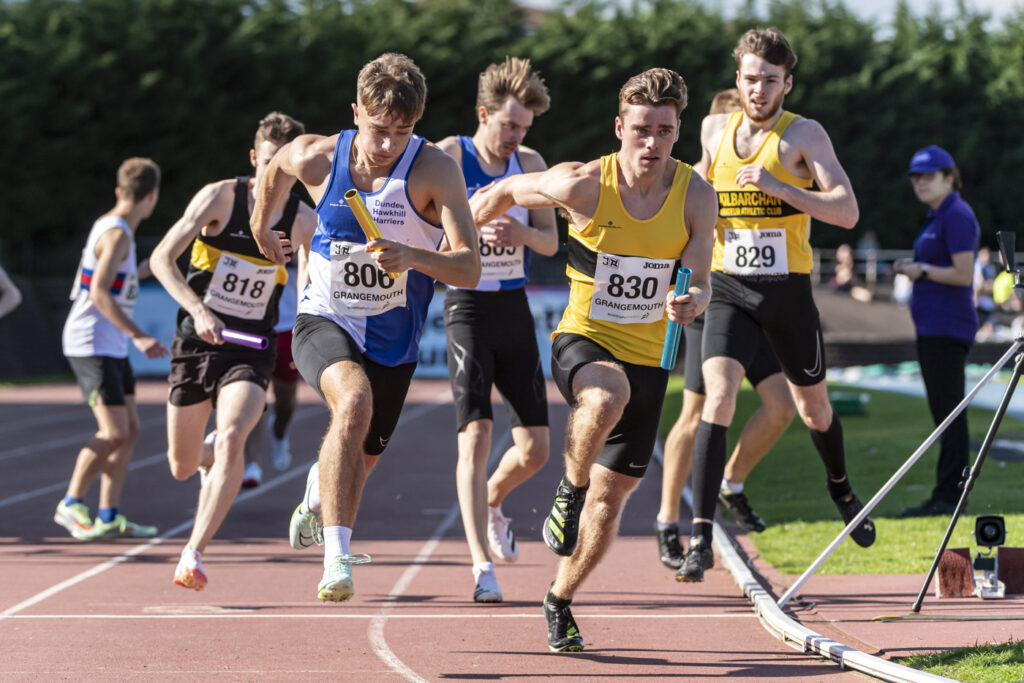 Officials line up to observe a two-minute silence before the morning session at Grangemouth (photo bv Bobby Gavin)
+++
Key words:
National 4J Track Finals, Alasdhair Love, Grangemouth