July 8, 2022
UPDATE
The following personnel from the Newton area have been determined to have been involved with the OIS; Sergeant I Christopher Burke, Serial No. 36665, Policemen III Garett VanHooser, Serial No. 41600 and Chad Fillinger, Serial No. 42270 and Policemen II Luis Avalos, Serial No. 42574, Christopher Gonzalez, Serial No. 44010 , Jose Rodriguez , serial # 44337, James Stea, serial # 44030, Kyle Bender, serial # 43595, Israel Florez, serial # 43402 and Chad Heistermann, serial # 40775.
July 6, 2022
**The following information is based on a preliminary and ongoing investigation, which continues to evolve as investigators interview witnesses, review physical and electronic records, and analyze forensic evidence. The Department's understanding of the facts and circumstances may change as additional evidence is gathered and analyzed**
Los Angeles: The Los Angeles Police Department (LAPD) Force Investigation Division is investigating a shooting involving an officer (OIS) in Newton's division.
On July 2, 2022, at approximately 9:40 p.m., Newton Division Gang Enforcement Detail (GED) officers saw a man who appeared to be under the influence walking in the area of ​​36th Place and Maple Avenue. Officers attempted to arrest the man, later identified as 30-year-old Jesus Rodolfo Torres, when he walked away with his hands in his pockets. Torres refused to follow the officer's instructions, and the officers requested additional officers in the area. When additional officers arrived, one officer fired a less lethal 40mm round at Torres. He was hit by the bullet and fell to the ground. While on the ground, Torres had a handgun in his hand. Officers told Torres to drop the gun. Torres did not follow the officer's orders and proceeded to raise the handgun; resulting in a shootout involving an officer. The suspect was hit by police gunfire and taken to a local hospital where he was pronounced dead.
The handgun that Torres was armed with was recovered from the scene, along with an additional firearm and a 50-round drum magazine.
No officers or bystanders were injured in this incident.
The LAPD's Specialized Force Investigations Division responded to the scene, interviewed witnesses and oversaw the collection of evidence by the Forensic Science Division. The full investigation will be reviewed by the Chief of Police, Board of Police Commissioners and Office of Inspector General to determine the thoroughness and accuracy of the investigation and whether the use of lethal force was in compliance LAPD policies and procedures. Additionally, the Los Angeles County District Attorney's office responding to the scene will review the subsequent FID investigation, evidence gathered and witness statements to determine if the force used by the officer was reasonable.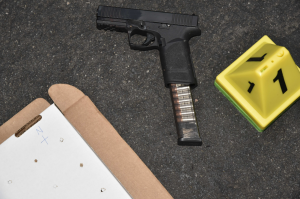 The suspect's handgun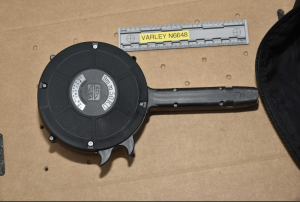 Magazine of 50 round drums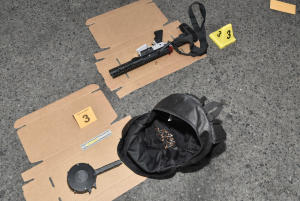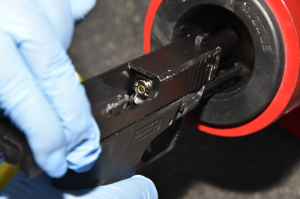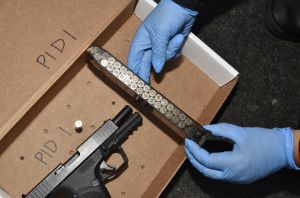 The suspect's handgun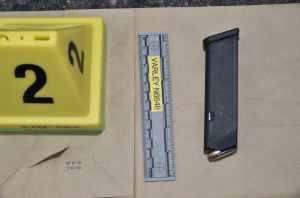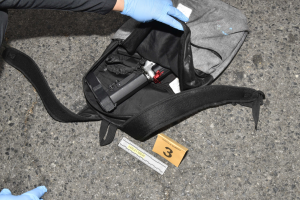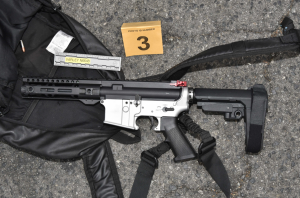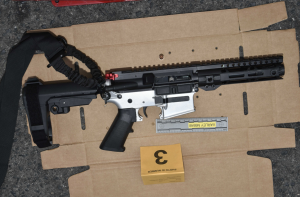 Gun in suspect's backpack